Blue Reef Lodge - Newquay (Cornwall)
Blue Reef Lodge - Newquay (Cornwall)
50.41346

,

-5.07845
$

$$$
|
View on map
Newquay (Cornwall)

,

United Kingdom
|
Reservation:
+44-160-073-8777
|
67 photos
87£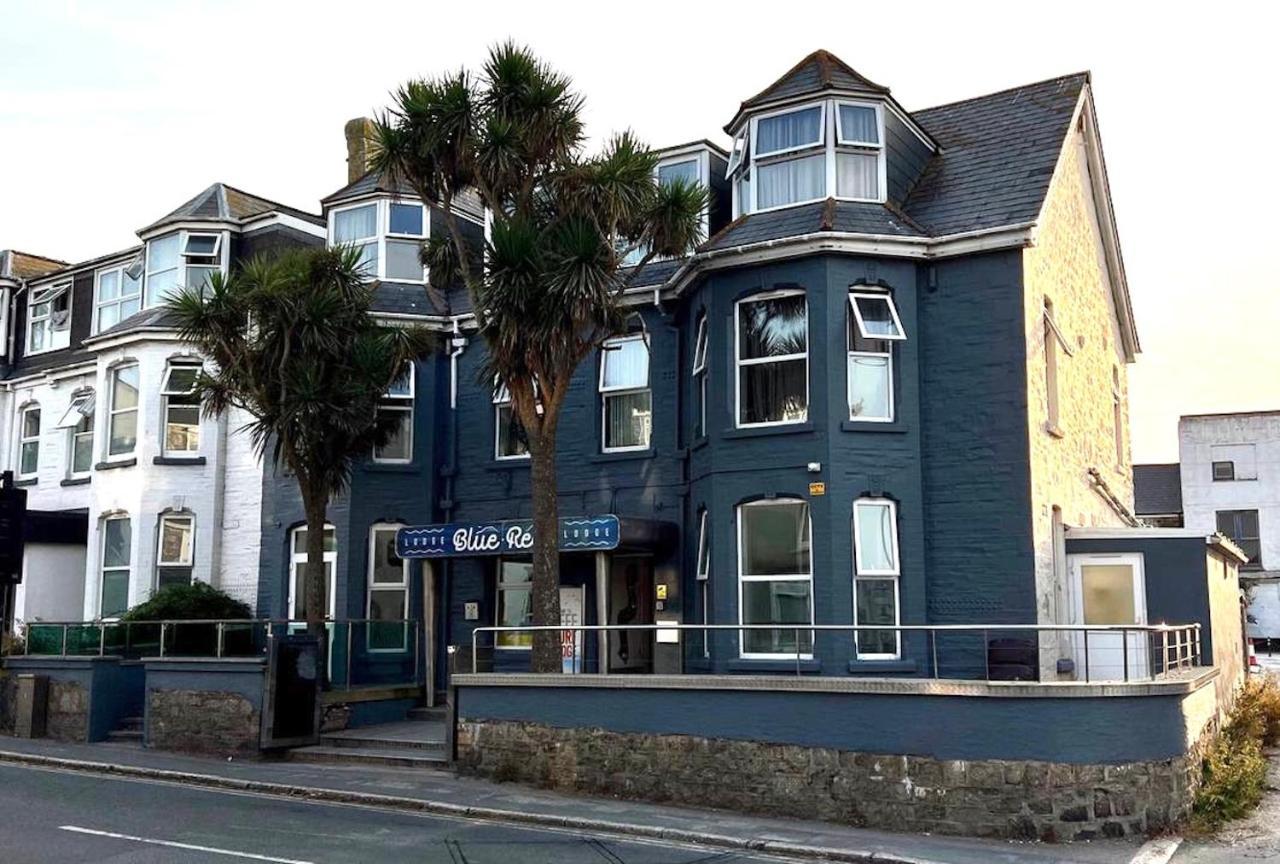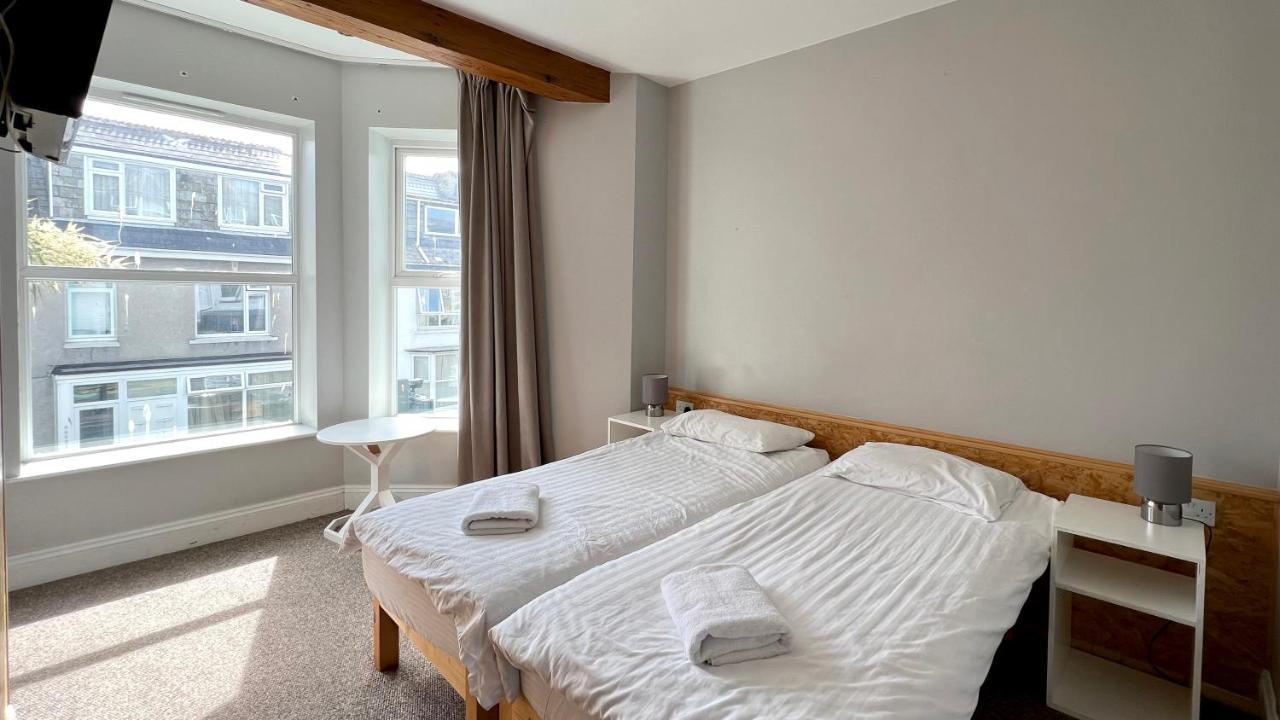 Blue Reef Lodge - Newquay (Cornwall)
Overview
The 2-star Blue Reef Lodge is placed within a 10-minute drive of Trerice and only 8 minutes' walk from Trenance Gardens and Cottages.
Location
The city centre can be reached within a 10-minute walk. Offering British dishes, Andy's Cafe lies at a medium distance from this Newquay hostel. The hostel is nestled in proximity of Blue Reef Aquarium.
Newquay bus station is 10 minutes' walk from the Newquay accommodation.
Rooms
Blue Reef Lodge features 16 rooms. The rooms come with a separate toilet and a shower.
Good to know
Amenities
No parking available.
Wireless internet is available in the entire hostel for free.
Other information
Children & extra beds
There are no extra beds provided in a room. 
Rooms and availability
Max:

2 persons

Bed options:

2 Single beds or 1 Double bed

2 Single beds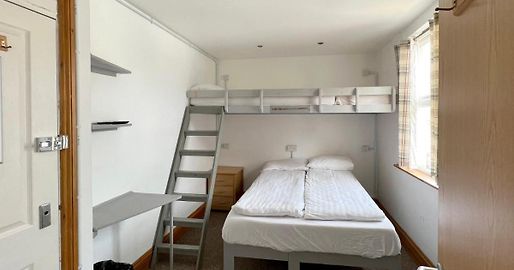 Max:

2 persons

Bed options:

Sleeping arrangements for 3 persons
Max:

4 persons

Bed options:

Sleeping arrangements for 4 persons
Show 2 more room types
Less
Facilities
Show all facilities
Hide facilities
Essential information about Blue Reef Lodge
| | |
| --- | --- |
| 💵 Lowest room price | 87 £ |
| 📏 Distance to centre | 500 m |
| ✈️ Distance to airport | 9.5 km |
| 🧳 Nearest airport | Newquay, NQY |
Location
Address
The address has been copied.
10-12 Berry Rd
,
Newquay (Cornwall)
,
United Kingdom
,England
10-12 Berry Rd
,
Newquay (Cornwall)
,
United Kingdom
,England
City landmarks
Nearby
Restaurants
Hotels nearby
Trenance Park
Waterworld Leisure Centre
1.1 km
Unit 1
Newquay Activity Centre
1.6 km
Yeoman Way
Newquay Community Orchard
1.2 km
Museum
Newquay Heritage Archive & Museum
600 m
Saint Michael's Road
The Parish Church of Saint Michael the Archangel
270 m
Park
Trenance Gardens and Cottages
590 m
Newquay TR7 2NE
Great Western Beach
300 m
5 Marcus Hill
Newquay Parish Church
280 m
Andrew Henwood Funeral Director
Little Western Railway
590 m
Restaurant
Istanbul Grill Kebab
530 m
Restaurant
Bertie o'Flannigans Food
120 m
Reviews of Blue Reef Lodge
Share your experience with us.
Write a Review
Martin

Loved the place, great value for money, clean and cosy, friendly and helpful staff, convenient location near high street and beaches.

Nothing I didn't like to be fair.

Ken

Double room

common bathroom

Dominic

Clean rooms

No parking spaces, small bathrooms

Carol

We had a great time at the lodge with a short walk to the beach. The bunk beds were a hit with the kids and the private ensuite was convenient. Lisa and Johnny provided excellent service and...  

Marc

The room was clean and well-maintained, with comfortable beds and a nice bathroom. The location of the hotel was great, with easy access to the beach and nightlife. The staff were friendly and helpful, especially the security guard who...  

Tommy

The room was spacious with a small attached bathroom. The staff were kind and the bar was modern. Convenient location in walking distance to the town center. Continental breakfast available for a good price....  

John

During our stay, we were pleasantly surprised by the location of the lodge. It was conveniently situated in the heart of town, making it easy to explore and enjoy the surrounding area. Despite being close to the center, we were pleasantly surprised by how quiet it was inside the lodge. Our room was comfortable and provided us with a good night's sleep. The TV and shower worked well, and the modern toilet was a plus. We appreciated the proximity to amenities like a nearby supermarket and lively nightlife. Although the lodge is labeled as a hostel, we felt comfortable and enjoyed our stay, especially considering the affordable price. I would recommend this accommodation for those seeking a convenient and budget-friendly option for their trip to Newquay.

Philip

Best aspects of our weekend getaway were the cozy atmosphere and friendly staff. The lodge had a warm and welcoming vibe that made us feel right at home. The staff went above and beyond to ensure we had everything we needed, and even gave us great recommendations for nearby restaurants and attractions. Additionally, the location was perfect - everything we wanted to see and do was within walking distance, making it super convenient for exploring the area. our experience at this lodge was top-notch and we can't wait to come back!

The lack of communication and limited amenities. It was difficult to get in touch with staff when we had questions or concerns, which was a bit frustrating.

Daniel

Great value for the price. The hotel provided comfortable and clean accommodation that suited my budget. The location was excellent, close to shops and beaches. I was able to explore the area easily. The staff were also friendly and helpful.

The rooms were quite small and cramped, with bunk beds and limited space for furniture. The lack of soundproofing meant that noise from traffic and other guests was disturbing, especially at night.

Peter

Clean and good value for money. Comfortable beds and nice view. Convenient location near the beach. Friendly and knowledgeable staff. Delicious breakfast options. Great seating arrangements in the bar. Private ensuite with shower. Family-friendly bunk bed setup.

Not obvious to find.

Archibald

had a lovely stay in newquay with friends, the lodge was a perfect base to explore. comfy rooms, friendly staff, and great central location. the breakfast was super delicious! loved the convenience of the fridge and cutlery for dinner. highly recommend for a no-frills, convenient stay.

Richard

Professional, openminded staff. No judgment on attire. Comfortable rooms and brilliant lobby. Excellent location near amenities and seaside. Recommend and will return. Special thanks to Lisa and Stephen.

Alexander

We had a great stay at this hotel. The staff was amazing and went above and beyond to help us, even after we checked out. The cleanliness was superb and the location was perfect, within walking distance to the town center and beaches. The beds and bedding were very comfortable, making for a cozy night's sleep. the hotel facilities and the helpful and kind staff made our stay enjoyable.

Nothing, everything was great.

Bill

blue reef lodge in newquay exceeded our expectations on this romantic trip. the staff were genuine and helpful, the rooms were clean and comfy, and the location was perfect for exploring the area. we were impressed!

Rod

my stay at this cozy, stylishly renovated lodge in Newquay exceeded my expectations. The location was perfect for surfers with its proximity to the beach, and the staff were friendly and helpful. I enjoyed the comfortable beds and the delicious breakfast for just 3 pounds.
FAQ about Blue Reef Lodge
Are there any tourist attractions close to Blue Reef Lodge?
Landmarks near Blue Reef Lodge include Boating Lake as well as Treloy Golf Club.
Is there any public transport near Blue Reef Lodge?
Yes, there is Newquay train station 650 metres away from Blue Reef Lodge.
Which payment methods does Blue Reef Lodge accept?
At Blue Reef Lodge guests can pay only with cash.
Which room facilities does the Newquay hostel offer?
Some rooms of the Newquay hostel are equipped with a carpeted floor and a television.
What are the room types offered by Blue Reef Lodge?
Blue Reef Lodge offers such room types as Family Room, Double Room provides a carpeted floor, as well as a shared bathroom featuring a shower and Double Room features a flat-screen tv.
Is there free internet in Blue Reef Lodge?
Yes, at Blue Reef Lodge internet is provided for free.